Boutique Hotel Villa Beatika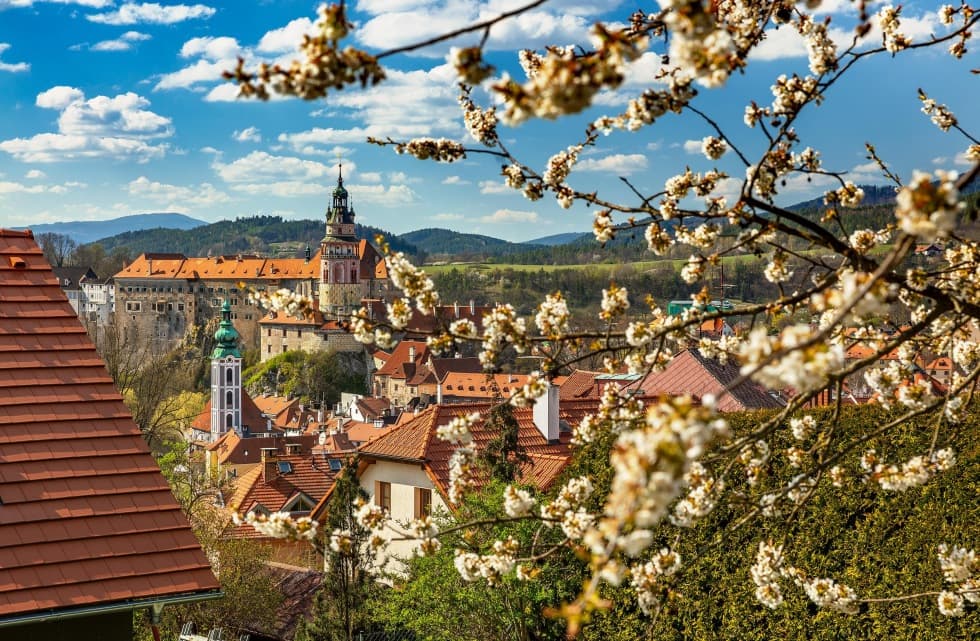 Villa "Beatika" from the time of the First Czechoslovak Republic, built in 1932 has been delicately redesigned and completely refurbished in 2013. It is located in a quiet neighbourhood on a mound, overlooking the old town, right next to the park and a short, 8-minute, walk from the "Náměstí Svornosti" square. Whole estate provides a fantastic view of the old town, the nearby castle and the lovely surroundings.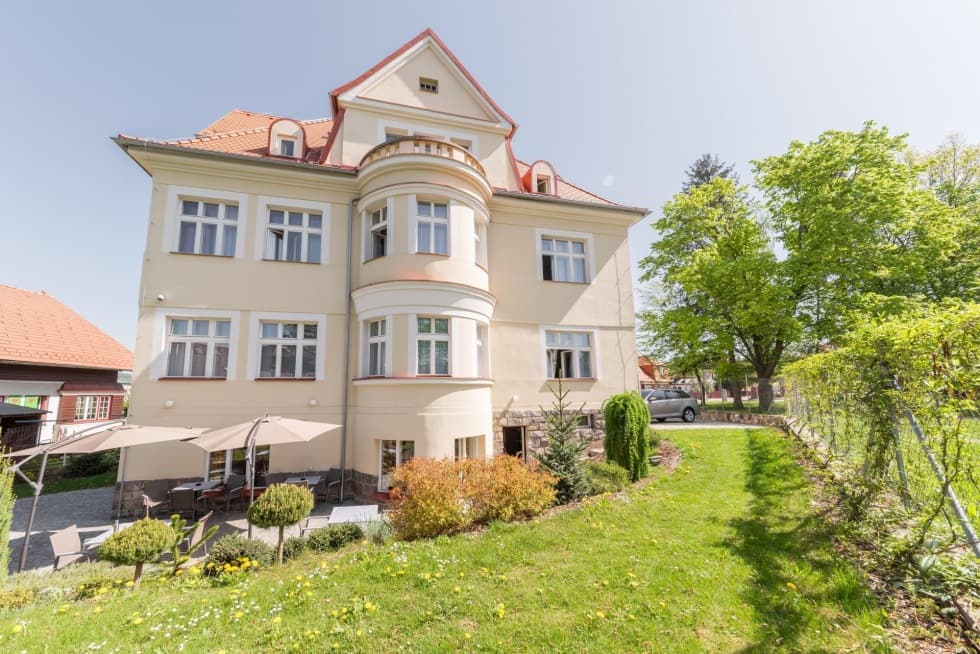 What it looks like here
Our garden, garden terrace and a pergola with roof tempt to have a seat and enjoy the breath-taking view of the old city and the castle and chateau complex.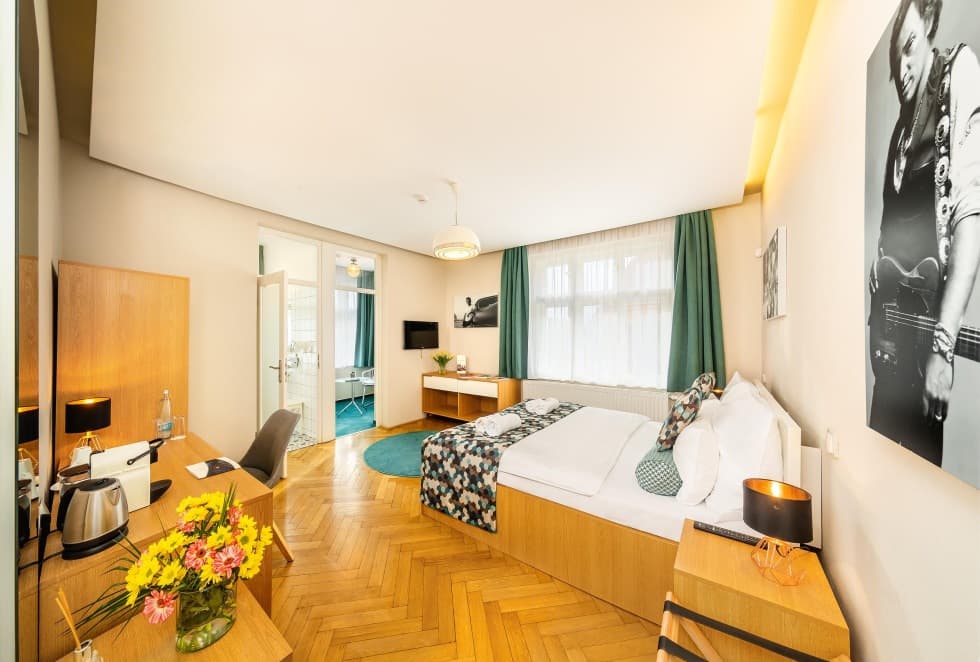 Rooms in the style of music stars
10 spacious, air-conditioned, individually furnished leading music stars themed rooms equipped with a bathroom with a shower or a bath and a WC, minibar, TV set with a satellite broadcast, an in-room safe, a coffee maker Nespresso are awaiting you. All rooms are equipped with luxurious Molton Brown cosmetics.
You can use everything, what Boutique Hotel Villa Beatika and the town of Český Krumlov offer during your stay. The town of Český Krumlov is a very lively destination with a tradition of festivities. If you shall not be in the mood to go out into the town, you can enjoy everything, what the exteriors of the hotel offer. Summer garden is the ideal place for your leisure during summer. You can treat yourself to a glass of a great wine. This place, thanks to its intimacy, is absolutely unique and unmatched in Český Krumlov.
The Hotel reception will recommend you the best walks through the town, manages transport, parking and other services. We look forward to seeing you!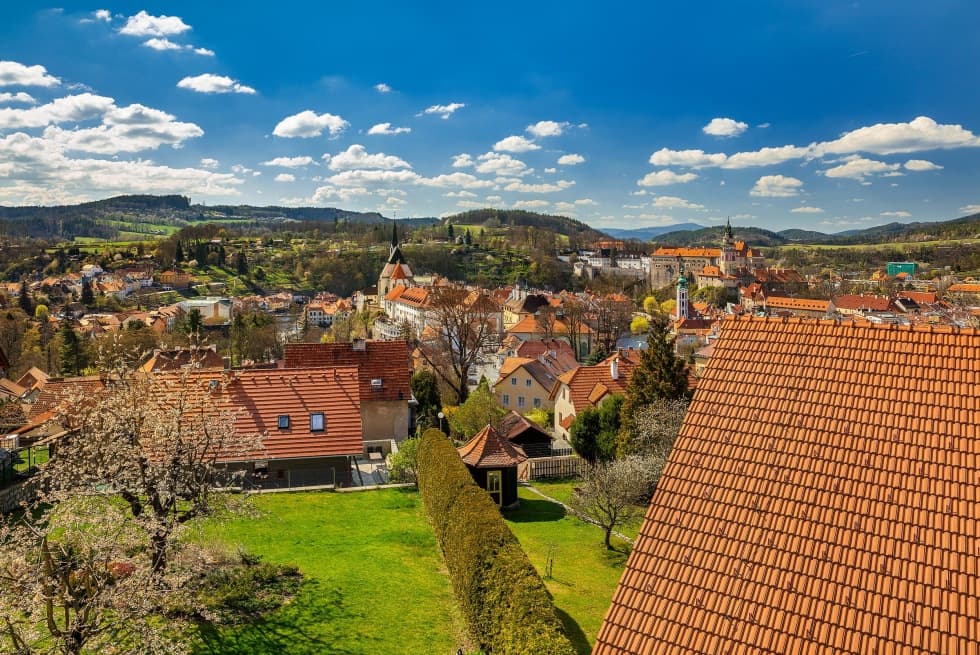 Exceptional location
Come to us by train, bus or comfortably by car directly to the hotel. We will gladly arrange for your transfer from the airport or a train station. There are 6 private parking spaces at your disposal outside the guest house.
Welcome to Český Krumlov
Welcome to Český Krumlov, the pearl of south Bohemia, which will charm you with its history, medieval alleys, mystical places and stories, romantic nooks and picturesque gables of the bourgeois houses.You will find many cosy cafés and even medieval taverns in the town! This town has a unique magical atmosphere and since 1992 has been enlisted among the UNESCO heritage.
View of the old town and the castle
Our hotel is located near the center, but also in the immediate vicinity of forests and meadows. If you long for a walk in the countryside, we recommend a short and pleasant walk to the nearby famous landmark, the Cross Mountain, whose top is decorated with a recently renovated chapel from 1710. Our garden, garden terrace and pergola invite you to sit and enjoy breathtaking views of the old city ​​and castle.